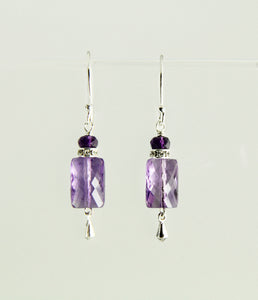 Amethyst Rectangle Earrings For Crown Chakra
The seventh chakra resides in the space just above the head.  It resonates with the colors purple and white
Stone: Amethyst
Size: approximately 3/4" tall x 1/2" wide
Amethyst Earrings
Description:  Amethyst is a form of quartz and comes in many shades of purple.  Our crown chakra earrings are very sparkly in part because they are so well cut, but also because the material is so fine.  The photograph is very accurate.  Purple has long been the color associated with royalty and it's easy to see why.   Please be advised that quantities of these outstanding earrings are very limited. 
Crown Chakra information for Amethyst Earrings
The seventh chakra, also known as the crown chakra, is symbolized by a lotus flower with a thousand petals that resemble a crown.  Bodily concerns are left behind and the focus of energy resides in the space just above the head.  It is interesting to note that the seventh chakra hovers in the same area as a halo.  Considered to be the gateway to the universe, the crown chakra focuses on our desire to reach beyond our physical selves in the search for our creator and true enlightenment.
---
We Also Recommend