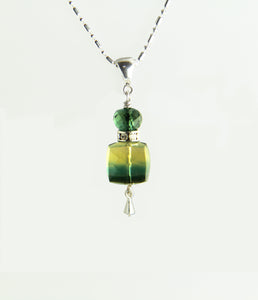 Bi-color Quartz Necklace for Heart Chakra
The fourth chakra is located in the heart and is associated with the color green.
Stone:  Bi-Color Quartz
Size:  approximately 3/8" cube  -or-  9mm
Bi-color Quartz Necklace
Description:  This sparkling little cube caught my eye because of it's usual blending of two colors.  Half green and half yellow, it could also be a third chakra stone.  The effect is achieved by heating the quartz and the color change is permanent.  No dyes of any sort are used.  This is a natural occurrence due to the way the heat is applied to the quartz.  I bought a small number of pieces of this material and when I went back for more, it was gone.  If you love this well cut little gem, don't make the same mistake.  Get it while you can.  Supplies are limited.  Because it is both yellow and green, we are happy to card it as either yellow or green - just let  us know if you have a preference when you place your order.   
Bi Color Quartz Necklace Chakra Information
The fourth chakra is located in the heart, chest and shoulders.  It is is called the heart chakra because it is the place where we feel joy and a universal love for all of life.  It is a place of healing and hope.  Love, compassion and kindness are positive feelings we hold in the heart chakra.  Negative emotions such as despair, depression cruelty and loneliness are felt in this area as well.  Common phrases that describe the sensations of the heart chakra would include: "My heart was overflowing with happiness", "He/she broke my heart", "I love you with all my heart" or "How can you be so heartless?"  Depression is often described as having a heavy heart, or carrying the weight of the world on your shoulders.  More than any other chakra, the state of our heart chakra determines how happy we feel.
---
We Also Recommend