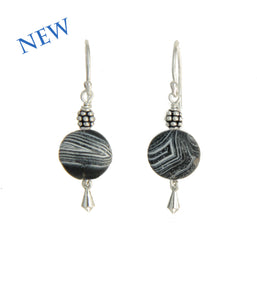 Black Agate Earrings for Root Chakra
The first chakra is called the root chakra and is located at the base of the spine and down into the legs.  It is represented by two colors: red and black.
Stone: Black Agate and Black Spinel

Size: approximately 3/8" coin -or- 12mm coin on Sterling Silver earwires

Black Agate and Earrings

Description:  This is truly a unique stone.  It is black agate that has been etched to reveal layers of concentric patterns in white.  Agate is formed by water that seeps in between the layers and pockets of a host stone, eventually becoming part of the rock itself. The layers are similar to the patterns found in a tree trunk.   Our root chakra black agate is very organic looking.  It has been polished, but the etched areas are matte.  The stone pictured is a sample of the material, however, each stone has it's own unique patterns. 
Root Chakra Information for Black Agate Earrings

SURVIVE AND THRIVE. The first or root chakra connects us to the Earth.  Acknowledging that we belong to the Earth and not the other way around is the beginning of chakra awareness.  First chakra energy runs from the lower trunk of the body down through the feet.  You can feel this exchange of energy simply by bending your knees and pressing your feet against the ground.  Instantly you feel stronger and more balanced.

 

Sayings that are common to the root chakra include: standing your ground, finding your roots, being surefooted, well grounded or rock solid.   
---
We Also Recommend