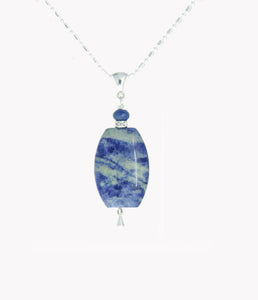 Brazilian Sodalite and Blue Quartz Necklace For Throat Chakra
The throat Chakra is the fifth chakra.  It is activated by the color blue.
Stone:  Brazilian Sodalite and Blue Quartz
Size:  approximately 22mm wide x 20mm tall
Brazilian Sodalite and Blue Quartz Necklace
Description:  This is a substantial stone, both in size and character.  It has a casual flavor that would look terrific with denim blue.  Sodalite is found in many places around the globe, but our sodalite is distinctly Brazilian.  Each piece has it's own blue/white pattern, but all of the material is fairly consistent with the sample shown.  On my latest trip to Tucson this year, I came across a strand of natural blue quartz, something I'd never seen before.  As soon as I held it up to the Brazilian sodalite, I knew it was exactly the right accent.
Throat Chakra Information for Brazilian Sodalite and Blue Quartz:
The throat chakra is also the fifth chakra and is focused on communication.  It is about finding your truth and expressing it.  This is no easy task.  It requires an honest look at yourself and the courage and integrity to stand up for what you truly believe.  While this depth of personal clarity is highly admirable, care must be taken to allow for other viewpoints to exist.  This highly creative area of our personalities brings forth the artist within.  Dancing, singing, acting, painting, writing, etc. are forms of creative self expression.  The guiding principle of this chakra is truth.  It is the defining element in what makes art such a powerful form of communication.
---
We Also Recommend