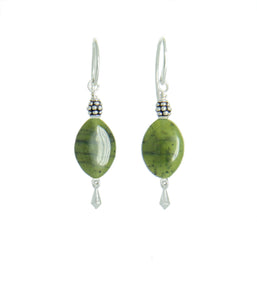 British Columbian Jade Earrings for Heart Chakra
The fourth chakra is located in the heart and is most responsive to green or pink.
Stone:  British Columbian Jade
Size: approximately 3/8" wide x 5/8" tall  -or-  10mm x 14mm
Heart Chakra Earrings

Description:  The custom of wearing jade goes back thousands of years and was believed to insure good health. The tradition is still alive and well today.  The Chinese consider Jade to be a living stone that will change with the wearer over a long period of time.  Jade is very dense in its physical structure.  It does not break easily and is a wonderful medium for carving.  Care should be taken, however, to protect it from harsh chemicals or extreme temperature changes.  Natural jade has been found in many colors.  Black, lavender, yellow, orange and numerous shades of green, but I especially love the color of our BC Jade.  It is a lively, earthy green with flecks of black. 
Heart Chakra Information for British Columbian Jade Earrings
Chakra Information:  The fourth chakra is located in the heart, chest and shoulders.  It is called the heart chakra because it is the placeba place where we feel joy and a universal love for all of life.  It is a place of healing and hope.  Love, compasssion and kindness are positive feelings we hold in the heart chakra.  Negative emotions such as despair, depression, cruelty, and loneliness are felt in this area as well.   Common phrases that describe the sensations of the heart would include:  "My heart was overflowing with love", "(He/She) broke my heart", "I love you with all my heart", or "How can you be so heartless?"  More than any other chakra, the state of our heart chakra determines how happy we feel. 
---
We Also Recommend