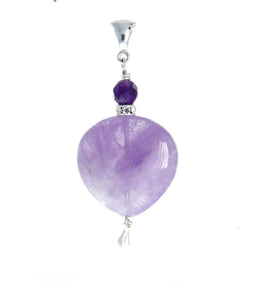 Cape Amethyst #1 Pendant for Crown Chakra
Our pendants differ from necklaces in that they do not have a chain.  For those who wish to expand their ChakraJewel collection or already have a chain, this is the perfect solution.  All our necklaces are available as pendants. 
 The seventh chakra is located in the space just above the head.  It is associated with the colors purple and white.
Cape Amethyst Pendant
Stone:  Cape Amethyst
Size:  approximately 1" on all three sides  -or- 30mm
Description:  Cape amethyst is more lavender than the deep purple we typically think of as amethyst.  This stone is semi-translucent and is marked by whisps of milky quartz inside.  It's cut in a softened heart shape and displays depth and character as well as a high polish.  This is a gorgeous stone.  I love the larger size and the dark purple amethyst caps it off nicely.  If you're a fan of purple, don't miss this one. 
Crown Chakra information for Cape Amethyst Pendant
  The seventh chakra is called the crown chakra.  It is symbolized by a lotus flower with a thousand petals resembling  a crown.  In this chakra, bodily concerns are left behind and the focus of energy resides in the space just above the head.  It is interesting to note that the seventh chakra hovers in the same area as a halo.  Considered to be the gateway to the universe, the crown chakra holds our desire to reach beyond our physical selves in the search for our creator and true enlightenment.
---
We Also Recommend