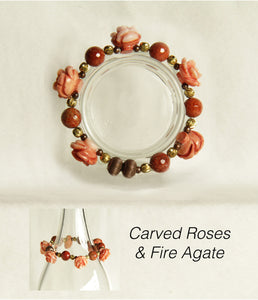 Carved Coral Roses & Fire Agate Bracelet for Heart and Sacral Chakras
Stones: Carved Coral and Fire Agate with brass and copper fittings.
Description: 
This is a darling bracelet.  I don't usually go for carved roses, but this bracelet is so fun  because it is earthy and feminine at the same time.  The coral roses are set off by deeper shades of orange fire agate, while the brass and copper beads add a rich,warm accent. 
Chakra info:  Both the third or sacral chakra and the heart chakras are called into play in this coral and fire agate bracelet.  A nice blending of creative, sensual, loving energy that will bring joy each time you wear it.
---
We Also Recommend