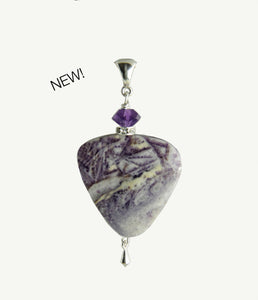 Chinese Charoite and Amethyst Pendant for Crown Chakra
The seventh chakra is located just above the head.  It is associated with the colors purple and white.
Stone: Chinese Charoite
Size:  approximately 1 1/8" on each side -or- 30mm
Chinese Charoite Pendant
Description:  This type of charoite is found at one place in all the world.  Our crown chakra charoite comes from the banks of the Yangzte River in China.  Russian charoite is quite different looking from Chinese charoite, although both are rare for their dominant purple color, not commonly found in rocks.  This chakra jewel is a softened triangle that is well proportioned.  It will garner plenty of attention worn at the throat, and it makes a stunning statement when worn over a sweater with the 18" chain.  I think this piece works especially well on our new larger link sterling chain.
Chakra information for Chinese Charoite Pendant
  The seventh chakra is called the crown chakra, symbolized by a lotus flower with a thousand petals that form a crown.  Bodily concerns are left behind and the focus of energy resides in the space just above the head.  It is interesting to note that the seventh chakra hovers in the same area as a halo.  Considered to be the gateway to the universe, the crown chakra focuses on our desire to reach beyond our physical selves in the search for our creator, as well as true enlightenment.
---
We Also Recommend