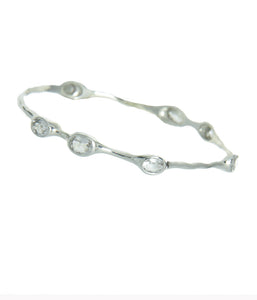 Crystal Quartz Bangle Bracelet - crown chakra bracelet
The crown chakra is located in the space just above the head.  It is energized by the colors white and purple
Stone:  Crystal Quartz
Size:  approximately 7" circumference
Crystal Quartz Bangle Bracelet
Description: Our sterling silver bangles are made especially for ChakraJewel.  I love the mix of organic form and fine gems.  Seven  crystal quartz stones are carefully placed around the substantial bangle to create our crown chakra bracelet.  It is a round shape that can be gently squeezed to form an oval, allowing a comfortable fit over a larger hand.  The sparkling quartz in this bracelet is faceted and perfectly clear, making it easy to wear with anything.  This stunning bracelet can be worn solo or combined with another bangle, watch or bracelet.
Crown Chakra Information for Crystal Quartz Bangle Bracelet
The seventh chakra is called the crown chakra.  It is symbolized by a lotus flower with a thousand petals resembling  a crown.  In this chakra, bodily concerns are left behind and the focus of energy resides in the space just above the head.  It is interesting to note that the seventh chakra hovers in the same area as a halo.  Considered to be the gateway to the universe, the crown chakra holds our desire to reach beyond our physical selves in the search for our creator and true enlightenment.
---
We Also Recommend