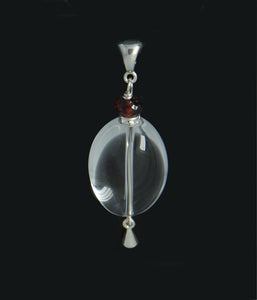 Crystal Quartz Pendant - crown chakra pendant
Our pendants differ from necklaces in that they do not have a chain.  For those who wish to expand their ChakraJewel collection or already have a chain, this is the perfect solution.  All our necklaces are available as pendants. 
 The crown or seventh chakra occupies the space just above the head.  It is associated with the colors purple and white.
Stone:  Crystal Quartz AAA rated and Fine Garnet
Size:  approximately 3/4" wide x 1" tall  -or-  17 1/2mm x 23mm
Crystal Quartz and Garnet Pendant
Description:  To receive an AAA rating, crystal quartz must be free of inclusions to the naked eye.  Our crystal quartz jewel is of substantial size and is an organic- shaped nugget that is clean enough for gazing.  It is wonderful for clearing your thoughts.   Because it is absolutely clear, our crystal quartz is probably more visible over clothing, so you might consider the longer 18" chain.  Quartz of this rating has been used for watch crystals, microscopes, eye glasses, binoculars, and crystal balls.  There is a mesmerizing quality about this stone that differentiates it from glass.  We have paired it with a faceted fine garnet to create a stunning jewel.
Crown Chakra Information for Crystal Quartz and Fine Garnet Pendant
The seventh chakra is called the crown chakra.  It is symbolized by a lotus flower with a thousand petals resembling  a crown.  In this chakra, bodily concerns are left behind and the focus of energy resides in the space just above the head.  It is interesting to note that the seventh chakra hovers in the same area as a halo.  Considered to be the gateway to the universe, the crown chakra holds our desire to reach beyond our physical selves in the search for our creator and true enlightenment.
---
We Also Recommend