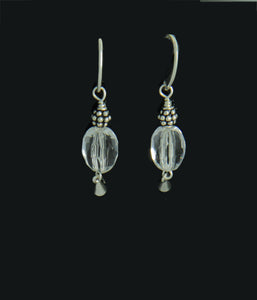 Crystal Quartz Earrings For Crown Chakra
 The seventh chakra is associated with the colors white and purple
Stone:  AAA rated crystal quartz on sterling silver earwires

Size:  approximately 1/2" by 1/2"  -or-  11 mm
 Crystal Quartz Earrings
Description: These crystal quartz earrings are AAA rated and look like glistening drops of dew.  They are like wearing little lights that are powered by nature.  Crystal quartz has the ability to clear the energy around it, making it a wonderful stone to wear as earrings because it opens the space around the head and face.  Our perfectly clear crystal quartz is a beautiful adornment that adds a lightness of spirit, regardless of what you are wearing. 
Crown Chakra Information for Crystal Quartz Earrings

The seventh chakra is called the crown chakra.  It is symbolized by a lotus flower with a thousand petals resembling  a crown.  In this chakra, bodily concerns are left behind and the focus of energy resides in the space just above the head.  It is interesting to note that the seventh chakra hovers in the same area as a halo.  Considered to be the gateway to the universe, the crown chakra holds our desire to reach beyond our physical selves in the search for our creator and true enlightenment.

---
We Also Recommend