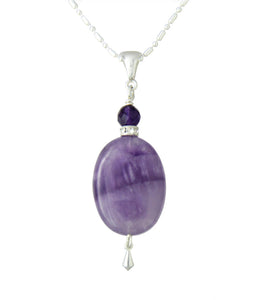 Dogtooth Amethyst - seventh chakra necklace
The seventh chakra is located in the space just above the head.  It is associated with the colors purple and white.
Stone:  Dogtooth Amethyst
Size:  approximately 1" wide x 1 3/8" tall  -or- 22mm x 30mm
Description: Dogtooth amethyst is a very interesting variety of amethyst.  The name comes from the bands of white calcite that form zigzag patterns across the purple amethyst background.  It is also called chevron amethyst.  Dogtooth amethyst is mostly found in Brazil, Mexico and Zambia.  Our seventh chakra jewel is a generous sized oval with good character and markings.  We have paired it with smaller faceted amethyst that is dark purple for contrast. 
Chakra information:  The seventh chakra is called the crown chakra.  It is symbolized by a lotus flower with a thousand petals resembling a crown.  In this chakra, bodily concerns are left behind and the focus of energy resides in the space just above the head.  It is interesting to note that the seventh chakra hovers in the same area as a halo.  Considered to be the gateway to the universe, the crown chakra holds our desire to reach beyond our physical selves in the search for our creator and true enlightenment.
---
We Also Recommend