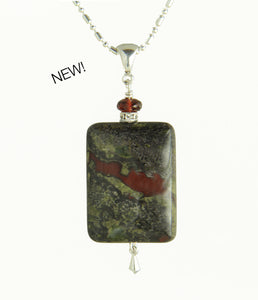 Dragon Blood Jasper and Garnet Necklace for Heart Chakra
The fourth chakra is called the heart chakra and is associated with the color green.
Stone: Dragon Blood Jasper and Garnet
Size: approximately 7/8" x 1 1/4" rectangle or 22mm x 30mm
Dragon Blood and Garnet Necklace
Description: Dragon Blood Jasper is a member of the quartz family.  The stone is aptly named, as it is a mottled green color with vivid patterns of red running through it.  Found exclusively in western Australia, it is easy to see how local lore attributes the green color to the remains of ancient dragon skin and the red to the color of dragon blood.  In other words, this gem is the stuff of legends.  We have added a fine cut garnet for a drop of sparkling "blood" atop this fun and unusual jewel.  Please note, the stone pictured is a sample of the material.  Each piece has its own unique markings and character, but we promise each stone will have some red veining.  
Heart Chakra Information for Dragon Blood Jasper and Garnet Necklace
The fourth chakra is located in the heart, chest and shoulders.  It is called the heart chakra because it is the place where we feel joy and a universal love for all of life.  It is a place of healing and hope.  Love, compassion and kindness are positive feelings we hold in the heart chakra.  Negative emotions such as despair, depression, cruelty and loneliness are felt in this area as well.  Common phrases that describe the sensations of the heart would include:  "My heart was overflowing with happiness", "(He/She) broke my heart", "I love you with all my heart" or "How can you be so heartless?"  Depression is often described as having a heavy heart, or carrying the weight of the world on your shoulders.  More than any other chakra, the state of our heart chakra determines how happy we feel.
---
We Also Recommend