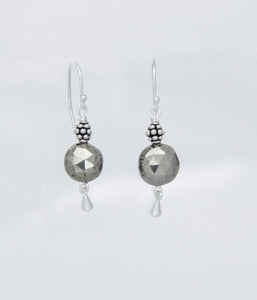 Golden Pyrite Earrings for Root Chakra
The first chakra is called the root chakra and is located at the base of the spine and down into the legs.  It is represented by two colors: red and black.
Stone:  Golden Pyrite
Size"  approximately 1/4" -or- 12mm coin shape
Golden Pyrite Earrings
Our faceted golden pyrite is a dash of flash.  In the days of the gold rush, it was given the name, fools gold, but pyrite is very different from gold.  Although it has a metallic look, it is a rock and can therefore, be faceted.  Gold is too soft to hold the sharp edges of facetting.  There is an earthiness about golden pyrite that gives it depth, while allowing it to be polished to a mirror finish.  Our golden pyrite earrings can be worn to dress up any outfit.  They're well cut and showy, yet precise and tasteful.  You won't be disappointed, I promise. 
Root Chakra Information for Golden Pyrite Earrings
When embarking on chakra study, this is the place to begin.  The first or root chakra is centered around our most basic need to survive and thrive.  Security, home, safety, family and a connectedness to the earth are all paramount to this chakra.  First chakra energy runs through the lower trunk of the body down to the feet.  Simply by pressing your feet against the ground, you feel stronger and more balanced.  Standing your ground, finding your roots,being surefooted, well grounded or rock solid, are all common sayings that revolve around the first chakra.  Communing with nature is a sure way to connect with this part of the chakra system.  It is the feeling that we belong to the earth, not the other way around.
---
We Also Recommend