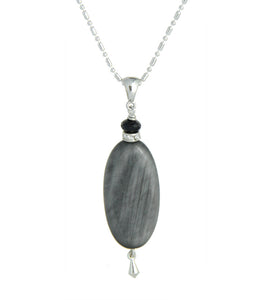 Gray Cat's Eye and Black Spinel Necklace - Root Chakra
The first chakra is located at the base of the spine and is associated with the colors black and red.
Stone:  Gray Cat's Eye and Black Spinel

Size:  approximately 1/2" wide x 1" long - or 15mm x 30mm
Gray Cat's Eye and Black Spinel Necklace

Description:  Stunning, tailored and sophisticated describes this unusual gray cat's eye jewel.  Cat's eye is part of the chrysoberyl family of crystals.  It has a vitreous silver sheen that looks somewhat like satin.  Scientifically, this is caused by slender parallel mineral fibers that reflect light, but the effect is quite magical.  The elongated oval shape and faceted black spinel on top only make this root chakra necklace all the more elegant.  It works well on an 18" chain to wear over t-shirts and sweaters.  This cat's eye jewel is the only silver/gray stone in our entire collection

Root Chakra Information for Gray Cat's Eye and Black Spinel Necklace

SURVIVE AND THRIVE. The first or root chakra connects us to the Earth.  Acknowledging that we belong to the Earth and not the other way around is the beginning of chakra awareness.  First chakra energy runs from the lower trunk of the body down through the feet.  You can feel this exchange of energy simply by bending your knees and pressing your feet against the ground.  Instantly you feel stronger and more balanced.

 

Sayings that are common to the root chakra include: standing your ground, finding your roots, being surefooted, well grounded or rock solid.

---
We Also Recommend