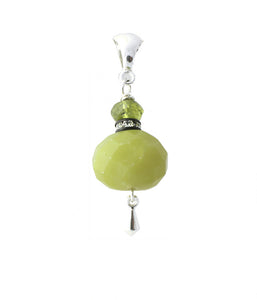 Olive Jade / Peridot Pendant for Heart Chakra
Our pendants differ from necklaces in that they do not have a chain.  For those who wish to expand their ChakraJewel collection of already have a chain, this is the perfect solution.  All our necklaces are available as pendants.

The fourth chakra is associated with two colors: green and pink
 Stone: Serpentine (Olive Jade) and Peridot
 Size:  approximately 1/2" around x 3/8" tall  or 13mm x 10mm 
Olive Jade and Peridot Pendant

 Description:  This stone is serpentine, but is widely referred to as olive jade.  We have paired this bright yellow/green with a peridot.  The faceted rondelle shape and martini green color makes this jewel classy with a touch of sassy.   Serpentine is found in many places in the world, including Australia, Britain, Russia, Norway, Italy, Zimbabwe, South Africa, Brazil and the USA.  The Aztec civilization prized it, not only for it's unusual green color, but also because it was relatively easy to carve, but dense enough not to break.  The fine quality peridot on top is micro faceted and echoes the same shade of green.
Heart Chakra Information for Olive Jade and Peridot Necklace

Chakra Information:  The fourth chakra is located in the heart, chest and shoulders.  It is a place where we feel joy and a universal love for all of life.  As is true with all the chakras, the fourth or heart chakra houses both positive and negative feelings.  In this case, love, hope, compassion and kindness are balanced against despair, cruelty, loneliness and the absence of, or inability to feel love.  You are probably familiar with common phrases that describe the sensations of the heart chakra: "My heart was overflowing with happiness", "(He/She) broke my heart", or even, "He carried the weight of the world on his shoulders."  More than any other chakra, the state of our heart chakra determines how happy we feel. 
---
We Also Recommend