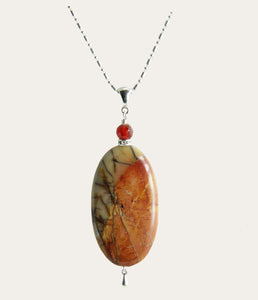 Red Creek Jasper #2 and Carnelian Necklace for Root Chakra
The root chakra is located at the base of the spine.  It is tied to the colors red and black.
Stones:  Red Creek Jasper and Fire Agate
Size:  Approximately 1 1/8" wide x 1 1/8" tall or 30mm x 40mm  
Red Creek Jasper #2 and Carnelian Necklace
Named for the river in China where it is found, Red Creek Jasper is not really a red, but rather, it has glorious shades of sunset colors from orange and peach to streaks of red and black.  There are also wonderful tones of pale blues and greens with ochre colored markings that look a bit like Chinese calligraphy.  Each piece of our red creek jasper is a work of art.  The smooth stone is well cut and polished and is large enough to wear over a sweater or turtleneck.  We have three different sample images for Red Creek Jasper.  The stone pictured was sold, but we have more of this material shot with orange.  Please take a look at all three red creek jaspers and order based on the general color tones you would like to receive. 
Root Chakra Information for Red Creek Jasper and Carnelian Necklace
When embarking on chakra study, this is the place to begin.  The first or root chakra is centered around our most basic need to survive and thrive.  Security, home, safety, family and a connection the earth are all paramount to this chakra.  First chakra energy runs through the lower trunk of the body down to the feet.  Simply by pressing your feet against the ground, you feel stronger and more balanced.  Standing your ground, finding your roots,being surefooted, well grounded or rock solid, are all common sayings that revolve around the first chakra.  Communing with nature is a sure way to connect with this part of the chakra system.  It is the feeling that we belong to the earth, not the other way around.
---
We Also Recommend