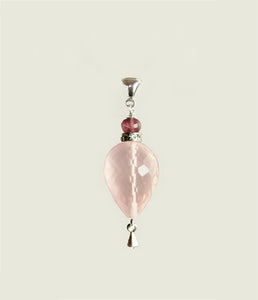 Rose Quartz Teardrop Pendant for Heart Chakra
Our pendants differ from necklaces in that they do not have a chain.  For those who wish to expand their ChakraJewel collection or already have a chain, this is the perfect solution.  All our necklaces are available as pendants. 
The fourth chakra is located in the heart and shoulders area.  It is associated with the colors pink and green.
Stone: Rose Quartz and Pink Tourmaline
Size:  approximately 3/4" long x 5/8" wide  -or- 21mm long x 15mm wide
Rose Quartz Teardrop and Pink Tourmaline Pendant
Description:  This rose quartz is a beautifully faceted teardrop shape which we have paired with a faceted pink tourmaline.  It captures the essence of love and compassion.  The tourmaline on top adds depth without taking away from the delicate pink of the quartz and the teardrop shape makes a fabulous pendulum.  This outstanding heart chakra pendant is generously sized and would look wonderful on a longer chain or silk cord so that it hangs close to the heart.  Take note ~ I was only able to purchase a small amount of this outstanding material, so don't wait if you're interested.
Heart Chakra Information for Rose Quartz Teardrop and Pink Tourmaline Pendant
The fourth or heart chakra is located in the heart, chest and shoulders.  It is called the heart chakra because it is the place where we feel joy and a universal love for all of life.  It is where we hold the capacity for healing and hope.  Love, compassion and kindness are positive feelings we hold in the heart chakra.  Negative emotions such as despair, depression, cruelty and loneliness are felt in this area as well.  Common phrases that describe the sensations of the heart chakra would include: My heart was overflowing with love, He/she broke my heart, I love you with all my heart or How can you be so heartless?.  Depression is often described as having a heavy heart, or carrying the weight of the world on your shoulders.  More than any other chakra, the state of our heart chakra determines how happy we feel.

---
We Also Recommend