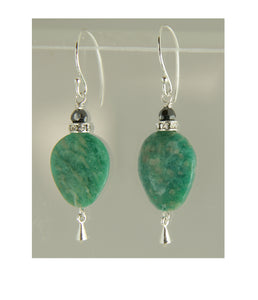 Russian Amazonite and Hematite Earrings for Heart Chakra
The fourth chakra, also called the heart chakra, is energized by the color green.
Stone: Amazonite and Hematite
Size: approximately  3/8" wide x 5/8"" tall  -or-  10mm x 15mm
Russian Amazonite and Hematite Earrings 
Description: Amazonite, pronounced like the Amazon river where it was found, is a rare kind of feldspar.  Prized in cultures around the world from Egypt to Peru, this particular material is from Russia and is distinctively different from the amazonite found in South America.  Formed by layers upon layers of minerals, the layers catch the light in different ways, yielding a shimmer just beneath the surfact known as schiller.  The aqua color is harmonious with every skin type.  We have paired this stone with a faceted hematite ball.
Heart Chakra Information for Russian Amazonite  and Hematite Earrings 
The fourth chakra is located in the heart, chest and shoulders.  It is called the heart chakra because it is the place where we feel joy and a universal love for all of life.  It is a place of healing and hope.  Love, compassion and kindness are positive feelings we hold in the heart chakra.  Negative emotions such as despair, depression, cruelty and loneliness are felt in this area as well.  Common phrases that describe the sensations of the heart would include:  "My heart was overflowing with happiness", "(He/She) broke my heart", "I love you with all my heart" or "How can you be so heartless?"  Depression is often described as having a heavy heart, or carrying the weight of the world on your shoulders.  More than any other chakra, the state of our heart chakra determines how happy we feel.
---
We Also Recommend