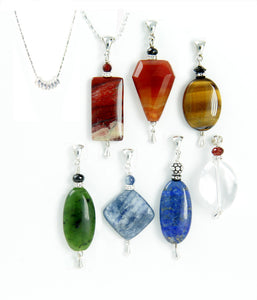 Seven plus One Collection
Seven plus One Collection

It is astounding how often our emotions control the way we live.  From buying a car to choosing a mate, we often make our choices based more on how we feel than all the facts we've gathered.  It's what makes us human.   

Chakra therapy was developed in India more than five thousand years ago.  Today it is as relevant as ever.  It is undeniable that when we feel better emotionally, we feel better physically.  The connection between the head and heart is the basis for all holistic medicine.  Chakra Jewels are a beautiful way to help you focus on that connection.

The Seven plus One Collection is a set of seven unique jewels that correlate to each of the seven chakras, plus our signature necklace of seven handmade sterling silver rings.  Our jewelry is designed to be worn together.  Start with our signature necklace on a 16" chain, then add the pendant of your choice on an 18" chain.  You can see this winning look on our model by clicking on the home page.  
The Seven plus One Collection includes:
A 16" signature necklace with seven handmade sterling silver rings
Red Jasper necklace with 18" sterling silver chain - first chakra
PLUS 6 PENDANTS -  Our pendants are interchangeable on the 18" chain, so there is no need to buy additional chains.
Orange Carnelian - second chakra
Yellow Tiger Eye - third chakra
Green British Colulmbia Jade - fourth chakra
Blue Kyanite - fifth chakra
Indigo Lapis Lazuli - sixth chakra
White/clear AAA rated crystal quartz - seventh chakra

Priced separately, these jewels would cost $360.00, but the
Seven plus One Collection
is just $320.00.  With a savings of $40.00, you're getting one
Chakrajewel
pendant absolutely
FREE!
Purchase the Seven plus One Collection, then add to it whenever you like.  Select from hundreds of varieties of spectacular jewels from around the world.  Keep in mind that our selections change and supplies of these natural stones are limited.
Balance in the world begins within.  
Namaste'.