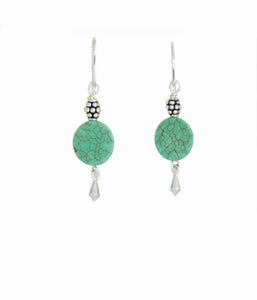 Stabilized Turquoise Earrings for Heart Chakra
The heart chakra is associated with the colors pink and green.
Stone:  Stabilized Turquoise
Size:  approximately 1/2" diameter coin shaped on sterling silver wires
Stabilized Turquoise Earrings
Description:  I think turquoise must be the most loved stone in all the world.  There is something warm and peaceful about it that looks really nice on everyone.  Depending on where the turquoise mine is located, turquoise can have many different shades of blue, green or aqua.  Our heart chakra earrings lean towards the greens and aqua range.  They get their shape from first cutting a larger piece of turquoise into a log shape and then slicing the pieces off.  The little round stones are really so sweet. 
Heart Chakra Information for Stabilized Turquoise Earrings
The fourth or heart chakra is located in the heart, chest and shoulders.  It is called the heart chakra because it is the place where we feel joy and a universal love for all of life.  It is a place of healing and hope.  Love, compassion and kindness are positive feelings we hold in the heart chakra.  Negative emotions such as despair, depression, cruelty and loneliness are felt in this area as well.  Common phrases that describe the sensations of the heart chakra would include: "My heart was overflowing with happiness", "He/she broke my heart", "I love you with all my heart" or "How can you be so heartless?".  Depression is often described as having a heavy heart, or carrying the weight of the world on your shoulders.  More than any other chakra, the state of our heart chakra determines how happy we feel. 
---
We Also Recommend