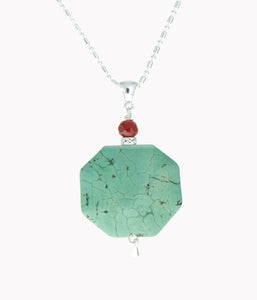 Stabilized Turquoise and Carnelian Necklace for Heart Chakra
The heart chakra is the fourth chakra.  It is energized by the colors green and pink.
Stone: Stabilized Turquoise and Carnelian
Size:  approximately 1 1/4" octagon
Stabilized Turquoise and Carnelian Necklace
Description:  I was strolling through an antique store with artifacts from Southeast Asia, when I came across these strands of turquoise sitting in a dish in an old cupboard.  It was such an unexpected discovery that I could hardly believe my luck.  Bought all that they had and could hardly wait to get in the studio to see what I would put with them.  As soon as I set the deep rust colored carnelian next to the turquoise, there was no doubt in my mind that they belonged together.  What a warm and wonderful heart chakra jewel.
Heart Chakra Information for Stabilizied Turquoise and Carnelian Necklace
The fourth or heart chakra is located in the heart, chest and shoulders.  It is called the heart chakra because it is the place where we feel joy and a universal love for all of life.  It is a place of healing and hope.  Love, compassion and kindness are positive feelings we hold in the heart chakra.  Negative emotions such as despair, depression, cruelty and loneliness are felt in this area as well.  Common phrases that describe the sensations of the heart chakra would include: "My heart was overflowing with happiness", "He/she broke my heart", "I love you with all my heart" or "How can you be so heartless?".  Depression is often described as having a heavy heart, or carrying the weight of the world on your shoulders.  More than any other chakra, the state of our heart chakra determines how happy we feel.
---
We Also Recommend