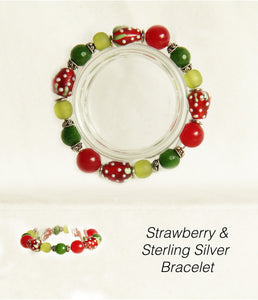 Strawberries & Sterling Bracelet for Heart Chakra
Stones: Lampwork glass, Jade, Sterling Silver
Description:
A few summers ago, I decided to grow a strawberry patch.  To my delight, the harvest turned out to be the most delicious strawberries I'd ever had in my life.  Every time I ate one, my mouth was filled with the flavor of sweet strawberries, and the taste has stayed with me ever since.  I gave them to my family, friends, neighbors and anyone who was walking by when I was picking them.  This bracelet makes me think of those delicious moments.  It is a reminder  that even the smallest things in life can bring us great joy.  
Information for Heart Chakra:
The fourth chakra is located in the heart, chest and shoulders.  It is called the heart chakra because it is the place where we feel joy and a universal love for all of life.  It is a place of healing and hope.  Love, compassion and kindness are positive feelings we hold in the heart chakra.  Negative emotions such as despair, depression, cruelty and loneliness are felt in this area as well.  Common phrases that describe the sensations of the heart would include:  "My heart was overflowing with happiness", "(He/She) broke my heart", "I love you with all my heart" or "How can you be so heartless?"  Depression is often described as having a heavy heart, or carrying the weight of the world on your shoulders.  More than any other chakra, the state of our heart chakra determines how happy we feel. 
---
We Also Recommend