Blog — sacral chakra
Posted by Donna Cook on
More Orange Please! Orange is the combination of red and yellow.  While red is rooted in passion and survival, and brilliant yellow floods us with confidence, orange is the color of happy.  Stimulated by this color both physically and mentally, we respond by becoming more extroverted, upbeat, spontaneous and creative when we're around it.  Not only that, but orange makes us hungry.  Restaurants often employ orange somewhere in their color scheme to make us eat more and feel happy while we're doing it.   There are many psychological ways that color can influence our emotions.  Orange is really a helpful color in treating...
Posted by Donna Cook on
  NEW GEMSTONES include: Black Labradorite - These are wonderful large rectangular stones with good flashes of blue.  A nice combination of root and third eye chakras. Leopard Skin Jasper - This new stone shows fabulous patterns of black, gray and pinky beige.  Looks like strands of black yarn that meander across a light colored background.  Each piece has it's own unique character.  Good for root chakra. Carnelian - Very large and polished to a gleaming, smooth surface, these natural carnelian tubes are paired with turquoise.  A winning combination for sacral, heart and throat chakras. BACK IN STOCK Aquamarine - This...
Posted by Donna Cook on
JASPER FOR FALL   As fall peeks around the corner, nature gives it her all before the frost. Leaves of green become bright red, orange and yellow, and while the spring and summer flowers have begun to fade, fall colors come with the bountiful harvest.  In celebration of Mother Nature's brilliant show of force, I've put together a group of JASPERS for fall that specifically energize the first, second and third chakras.  These chakras are represented by red, orange and yellow and play to our sense of belonging to the earth, allowing pleasure into our lives and feeling confident and self directed in our...
Tags:

blue, calcite, core chakra, first chakra, green, heart chakra, jasper, orange, red, root chakra, sacral chakra, second chakra, third chakra, yellow
Posted by Donna Cook on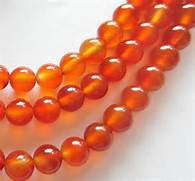 Sacral Chakra Stone Looking for a stone that will energize your sacral chakra?  I would highly recommend carnelian.  From Mandarin carnelian, which is a bright, electric orange all the way to rich tones of rusty brown, there is a wide variance in the colors of carnelian, but it is generally a shade of earthy orange.  The color orange energizes the second or sacral chakra, which focuses on our ability to feel emotion, specifically the experience of pleasure.  It is how we dance with life.  Consider the difference between bathing in a cold stream verses taking a hot shower.  Both will wash...